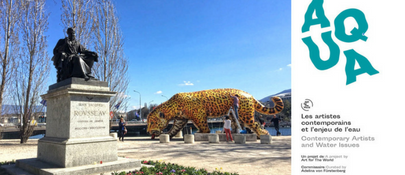 31 Mar

Using your own voice to express yourself

This past week I got a message from one of my clients, after he finished giving a presentation abroad, that made me very happy. Eduardo Srur is a very respected and well known Brazilian artist, who spreads out very important messages through his art around the world. And this week, he was invited to bring his "Time for the Jaguar to drink water" art piece to Geneva. If you ever go to Sao Paulo, make sure to stop by his art studio so you can learn a bit from his powerful art messages.

I was lucky to get to help him practice his speech in English. He could have done it in Portuguese with the help of translators. It would have been "easier" for him. But he decided to invest his little free time in preparing it in English, so he could "use his own voice" to express himself. This makes such an incredible difference, doesn't it?

It made me proud of working with people like him. Who are hard workers and sacrifice their little free time, when they could be with family and friends, to improve their English. It's not easy. But he did it.

Congratulations Edu! I am proud of you and all the other people out there who are investing in better communicating with the world. #SpeakEnglishBeFree #LinkedEnglish #ArtForTheWorld

(translation of the front page Folha de Sao Paulo news article below)

The 'Aqua' exhibition opened last Wednesday (22) in Geneva, Switzerland, on the occasion of World Water Day. The show, with works by 32 artists from around the world, is, according to the curators, an alert for the preservation of the resource, which should be a priority in the 21st century.

"When water is under threat, so are all forms of life on Earth," the organizers of the exhibition, scheduled to come to Brazil in November this year in São Paulo at Sesc Belenzinho, said in a statement.

Curator of the exhibition, the Swiss of Armenian origin Adelina von Fürstenberg selected works, among photographs, videos and installations, of artists who each approach, from a singular perspective, the impasses on the conservation of water.

Among those chosen is the Brazilian Eduardo Srur, who, in 2014, recreated two giant jaguars on the banks of the Pinheiros river in São Paulo.

Called "Time for the Jaguar to drink water," the work, selected for 'Aqua', alludes not only to the endangered animal, but also to the water crisis in the state capital and elsewhere in the world.

In addition to Srur, another Brazilian in the show is the Alagoan artist Jonathas de Andrade, who exposes the film "O Peixe", about the fishermen of the Northeastern region of Brazil.

"As a human resource, water becomes the center of climate change, whose consequences become the source or motivation of conflicts," added the organizers. The show is hosted by the NGO ART for the World, linked to the United Nations.