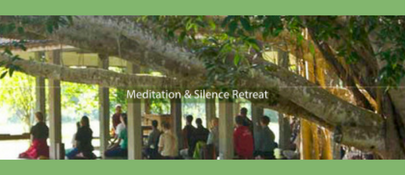 04 Mar

Silence & Meditation Retreat

I want to thank you who encouraged me to go on this ride. One more for my collection of life experiences. How grateful I am.

I breathed, I silenced, I struggled, I noticed, I let go, I relaxed and I breathed again! Never breathed so much in my life! It's curious how we forget to breathe when we are too busy doing all that we do. And it's that simple thing that keeps us alive, calm, concentrated, healthy, productive. So simple. Just inhale and exhale, mindfully, a couple of times. Try it and notice how you feel.

I can hardly believe that's what I did for 10 full days here in Thailand. In silence and offline. Me? Miss anxiety? I'm not going to lie to you. I felt like quitting many times in the beginning. Not because of the hard ciment bed, nor because I couldn't talk and interact with so many interesting fellows from all over the world. Not because of the mosquitos, nor the hot humid afternoons. Not even because of waking up at 4 am. But only because I had too many things i wanted to do instead of just breathing.

Why couldn't I breathe while doing all the things I like to? Probably because I just wouldn't breathe. I guess we need to only breathe sometimes to learn how to.

This was a mind training experience. I'm so glad I stayed. And learning how to control our minds is one of the hardest things. Mindful eating, walking, working, loving, mindful living. This is what they are teaching here. I have a long way to go but I already feel energized, light and complete for all that was waiting for me. I have experienced some precious moments of cool calm mind that I had never even dreamed of.

Some non doing time can really make us feel like doing better. Not doing more, but doing better.

I will miss the retreat, the silence, the stunning sunrises, the early morning yoga sessions, the hot springs, the beautiful meditation hall in the middle of the jungle, the organic meals and the sounds of nature that had never been so evident and clear. But I'm sure it will all come back to me when I sit every morning and close my eyes for my daily "non doing – just breathing – mind calming" time. Can't wait for the next retreat!

Thank you!