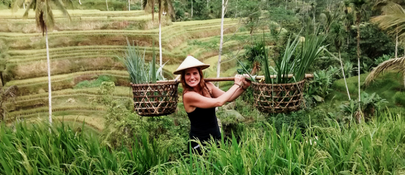 02 Apr

Bali

I had written half of this when I was still in Bali, almost a year ago. And now finished up to help a friend who is arriving there today. I had actually forgot I had written some of this almost a year ago before I left Bali. I tend to do that. I start an article, don't finish and never post. Shame on me. So forgive me if there is repeated info and a few mistakes since I added both texts in here. I stayed in Bali for a month. Enough time to leave with a "I have to come back" feeling.

First thing, even before you arrive in Bali, hire Ditto as your taxi driver from the airport to Ubud in case you decide you want to go there first, as I did. He was my driver at times in Ubud because I hadn't rented my motorbike yet, and we became friends. Such a great guy. I'll write more about him in a second.

As soon as you get at the airport, get yourself a Sim Card so you have internet with google maps to travel safe and well informed. There are just so much amazing free info on the web. I think Telkomsel was leading for wide coverage in Indonesia. That's the one I got and it worked very well in most places.

So, back to Dito, some people tell me not to trust strangers along my trips but I must confess that my best traveling moments come from trusting "strangers. I'm not saying you should do that same, please don't hold me responsible, but this has been my experience. So, he invited me to go see some rice paddies where he used to live, I had a bottle of wine in my bag and just decided to open and chat with him for hours to learn a bit about the balinese culture and his life. Since I'm usually traveling solo, having a friend like that that just wants to talk and exchange ideas and culture is a blessing. By the way, he has some cheap rooms in his house in case you want to travel cheap and experience what it is like to stay in a balinese home. He can also cook for you, so it is a full package with Dito. I didn't get to visit his home or eat his food, unfortunately, but I rode around with him and he knows it all. I went to a reggae concert in a local international food festival that he invited me and I'd never even have known about it if it wasn't for him. I invited him to join me in my dream of mentoring disadvantaged kids online and he said he is up to it. So, hopefully, one more volunteer we have for our future project, now in Bali :))

So, Ubud. Magical place. So much culture, events, music, beautiful arquitecture, decor, those balinese doors and statues drive me nuts, local music, cute shops, food,coffee shops (oh man their coffee is delicious). By the way, monkeys are just everywhere in Bali. It's unbelievable. And you should read about how to deal with them because they have their own personality.

If I wasn't living off of my backpack, I'd definitely go crazy buying furniture, jewelry and clothes in Ubud. I stayed at Indira Homestay, great family place with a variety of rooms. I stayed there twice and the bedroom upstairs with a balcony is much better than the ones downstairs. They serve breakfast in the room and it's just great to eat in that balcony with the view of those balinese roofs. Ubud is where all the massage, detox, yoga, healthy living tribes hang out. If you 're a Digital Nomad, go work from Hubud and meet the Tribewanted people if you have a work project you want to launch. Go drink some coffee at Seniman Coffe Shop. They have some AC rooms downstairs if you are a person who sweats, like me.

If you want beach time, please don't waste your time near Kuta and Seminiak, beaches near the airport, where the sand and water are dark and don't smell very good and it is hard to go in due to strong currents and thousands of surfers everywhere.Actually I'm not sure where kuta ends and Seminiak starts but I had the feeling that Seminiak is a bit more expensive than Kuta.The good thing here is that you can shop for half the price of Ubud some beautiful stuff. I just came here because they do have the best internet connection in the island, to work. Other than this, these places are for the partying crowd, pool parties, or families with kids that only want to stay inside hotels when they travel. And the beach is not pretty compared to other ones around. If you do stay, takelong walks to the north for hours and see the kitesurfers and pool parties along the way. In the streets, many people shouting "taxi" or "cheap beach chair" in my ears every 5 minutes.

I usually just stay in Seminiak at the agung residence, around US 25,00 a night, with really comfy room and bed, AC, great location, a 25 min walk from the beach(if you prefer not to have a motorbike) and super friendly staff. I stay there for a few days to get settled and then I leave my big backpack there in their storage. I rent a motorbike near the hotel and I take off to cruise several spots I enjoy in the island. If they are full, sometimes they are, stay at Casa Dasa Hotel. I stayed a few days there, as well, and it's great, too. A bit more expensive than the Agung residence but right next to each other and I think breakfast is included in this second place.

Australians. Nothing against them, on the other hand. Love my aussie friends. And I can't believe I haven't been there yet. But they do take up about 90% of the island because it's just so cheap for them. Bali is their backyard and they'd be stupid not to take advantage of this. I'm sure I would.

I went to Bali in the beginning of june 2015, beautiful weather welcomed me! I finished my second year of "traveling the world working online" there. Since I discovered it was possible to make a great living working online, I chose to work just enough to pay my bills and collect experiences instead of cash. That means that in my free time I go out explore wherever I am and try to interact with local people, food, culture. I have never even dreamed of the quality of life I have been having since then. The first year, from june 2013 to 2014 I lived in parts of Canada and the US. The second year, I lived in Spain, Thailand and Bali. The third year, Mexico, US, Brazil, Spain and Thailand. And I take some weeks off every now and then to visit other countries nearby. Been to Italy, France, Turkey, Hong Kong, Cambodia. Every time I go to Brazil, my home country, I like to spend a few months visiting my family, my friends and clients.

In Bali, do try their Kopi, balinese word for coffee. It's strong and a bit creamy at times. I visited the Luwak coffee production about an hour and a half north of Ubud and I highly suggest a visit there. It's right next to the Tegalalang rice plantations so you can do both things in one afternoon. From Ubud it is only a 20 minutes motorbike ride to the north. With traffic maybe 40 minutes. And, I must add, driving a motorbike in Bali is an adventure. There are no rules whatsoever here and they forgot the concept of driving on the left or on the right. It is all allowed. So, be aware, very alert and have fun!

Going back to the Luwak kopi experience. This place where you go to try the different coffees actually shows you the civets, here called Luwaks. They are mammals, some people say they look like wolves or wild cats. I felt so sad to see them in cages and to learn they are fed the coffee beans because they can select the best ones and "crap out" what is then cleaned and processed into the most expensive coffee in the world. You pay 50.000 rp, around 5 dollars to try a cup of the coffee and they serve you 7 different small cups of various coffees they sell. After the tour they give you to explain how the coffee is produced you sit by this magnificent view of the rice plantations and spend some time trying the delicious coffees and some homemade fried sweet potato chips that I loved. When I got home I was still remembering those caged animals, so I decided to google the whole story and I found this article that made me regret ever tasting that coffee. Those poor animals. How can humans be so cruel and stupid. Well, I do suggest you go there to see it all and to try the other coffees they have by that view. But please read this first so you know what you are getting into.

At the rice plantations I learned a lot with our friend and tour guide Wyan about rice plantation as you can see in the video attached to this article. I also learned that regardless of being male or female, in Bali each person receives one of four names based on the birth order. Though there are significant variations in the four names, some due to caste membership, and others due to regional customs and variations in the Balinese language between the North and the South of the island, there are four names in Balinese culture that are repeated frequently. The firstborn is "Wayan" or "Gede" or "Putu", second is "Made" or "Kadek", third is "Nyoman" or "Komang", and fourth is "Ketut" (often elided to Tut).

I wanted to do the sunrise trecking of the volcano near Batur lake in the north of Bali, and since I work on weekdays I had to get that done. So 3 days after I arrived in Ubud, the van to Batur picked me up at 2am at my hotel and I joined a crew of 10 people to hike the volcano. Some french, some canadians, a dutch girl and me. We stopped for some coffee on the way, they serve us a banana and we get to talk a bit and get to know each other. Of course that is the part I always enjoy the most. Meeting interesting people and interacting.

Met a group of 3 montreal girlfriends in their early twenties that were on a 2 month trip around SE Asia. They told me they were best friends and all the adventures they were going through. I just kept thinking of how much I would enjoy having my best girlfriends on this journey with me. That is a big reason for taking these long international trips when we are younger and women don't have their kids and hubbies to take care of I guess. Well, I don't have anyone to take care of, so that's good 🙂

Going up mount batur takes about 2 hours and it is some exercise! I don't recommend you do that if you are not in good shape. By the way, it cost me around 40 dollars the trip from my hotel in Ubud to the Vulcano and then to the Gili Islands. One way, all included (van, breakfast, guides, van, boat). Getting up there and seeing that view of the lake and the sunrise from the top of the vulcano is one of a lifetime. Not to mention you only realize there are around five hundred people going up the Mount every day, altogether. So that is also amazing. How many people today get to travel and experience these amazing places is just wonderful.

From there I headed to Gili Trawagan, the busiest of the Gili Islands, located near the Lombok island, northeast of Bali island. I chose that one because I had to work and I read that the 3G worked pretty well in Bali from everywhere. But that was not true. It works if you only need emails or FaceBook. But for one like me who needs to be on Skype calls with clients, it's not possible. The line breaks every 10 minutes so after 2 days I left. I was so sad to have to leave the Gilis because that turquoise water was something to be admired a bit more. I did rent a bicycle and circle the island in an hour, that's how small it is. And I didn't try the nightlife, which I heard was busy there. But being almost 40 and traveling alone, just makes more sense to stay in with a bottle of wine or tea to spend my energy during the day time. All the people in the night scene are in their early twenties or couples. Although I love making friends and learning from their personal experiences, I rarely go out at night when I am traveling solo. In Gili T, they have a muslim mosk and you hear the daily chanting just like in Istanbul. That was super interesting to hear from a paradise small little island.

I really wanted to take a 4 day boat trip to Lombok, Flores and some other islands but I started getting afraid of the weak internet infrastructure so I just stayed in south bali from then on to work. I heard from various people that this boat trip is amazing, you sleep on the top of the boat looking at the sky and you get to meet some 20 or 30 people that stay on board with you those 4 days. The whole thing with boat, food, drinks and guides costs only around US 100,00. So that is my list for next time here for sure.

From Seminyak, after I did Ubud, the rice paddies, the volcano and the Gilli islands, I rented the motorbike for US 4,50 day and took around 50 minutes to get to Padang Padang (PP) with my google map lady helping me along the way. How I love her. She just tells me what to do with my motorbike when I am too busy driving in this wild balinese traffic. If I had known what it would be like I'd probably not have gone by myself. But I'm glad I didn't know and just went. And I'll do it again next time because it was fun. I stayed and Kenanga Inn paying around US 15,00 a night for a big room with fan, double bed, private bath and a balcony with table, chair, a gorgeous garden to admire birds, butterflies, stars and the moon while I worked. It was right next to the beach, 5 min walk. I had no idea that PP was one of the most famous surfing spots in the world. I just went there because I needed a place to work and my friend told me that it was chill and had internet. The atmosphere is super laid back, most people in their 20s and 30s. Bingin beach is close and again, lots of stairs and great to just chill. There is a brazilian food restaurant called PF Brasil. Don't miss it. They have buffet lunches with amazing brazilian food. The owner, Hugo, is a cool guy who lives there and he charges US 4,00 for a full all you can eat delicious meal from 12pm till the food finishes, around 5pm. I met some interesting brazilian fellows who live 6 months in Brasil and 6 months in Bali every year. They were super friendly and you can always find them at this restaurant having lunch because brazilians can't stay too long without their cousin.

This PP area is surfers' paradise. Only laid back, cool, pretty, interesting kids in their early twenties mostly from Australia since it's only a US 150,00 ticket for them here, but lots of Canadians as well. They motorbikes you rent in this area even come with these surf hooks for you to place your surf board and just drive around all these beaches catching great waves and fun. On friday, saturday and sunday they have parties in these set places that are very nice. The hightlight was the PP reggae concert on saturday and the sunday sunset party at Uluwatu. Both with great live music and great vibe. They are 5 min from one another by motorbike.Going to a real beach party, on that sand, listening to some good reggae with all that vibe was amazing. As always, I just wished I had my friends with me. But just sitting there with a beer and watching that crowd was amazing.

I was impressed with how many surfers I met here from Spain, Brazil and Australia that have chosen to live in their home countries 5 or 6 months a year to make some cash and then they come here to enjoy surf life and chill. One of them rents his bedroom in Spain for 400 euros and lives in PP like a king. He pays US 600,00 per year on this little house and US 40,00 a month on his motorbike. He could just buy a used motorbike for much less he said. He eats in local places for less than a dollar a meal and has friends that come like him, every year to this area to surf.

You do need a motorbike in Bali. Otherwise you will be very limited in the best places because taxis are either not around or charge a lot. And the people who have energy or time to get to the best spots usually made that choice to collect experiences instead of cash. Please treat yourself with a day at Karma Kundara beach (same name as the hotel, not the hotel). It is simply the most beautiful beach to swim I have ever visited I think. It's only a 15 minute ride from PP. Don't take the elevator down, take the stairs because they are no bid deal as they say and you get a different perspective of the beach since you walk by the two resorts that took over the beach. The elevator they have at the hote is just like the one in Sugar Loaf in Rio de Janeiro for those who are not in shape to take the 350 step stairs up and down. For families with kids, the elevator is the only way. If you are not staying at the hotel, you have to pay US 30,00 to use the elevator but that includes a beach chair and US 17,00 ticket you can use at the restaurant for food or drinks. So it's not a bad deal. You can always ask for drinks at the resorts and use their chairs. Best beach to swim, ever. Like huge swimming pools with deep water to swim. Do check out the Karma Kundara hotel, perfect spot for a honey moon week. To just chill and have a drink, I preferred to stay at the one next door that had more reasonable prices and great view from their pool with drinks when you get tired (I doubt it) of swimming and hanging out at the sand.

If you have more time and want to explore some more beaches, go to Nusa Dua and Gunung Payung. But if you just want to chill and relax, just stay at the ones I mentioned before. I did take my motorbike one weekend to spend a few days seeing the other side, Nusa Dua beach, cause I had read it was amazing. It was ok, but nothing you can not miss. A bunch of resorts in that area, so not my thing but a nice 2 hour walk along the beach and you can get the feeling of it. Some interesting beaches around that area, again, if you have a motorbike to drive and explore on your own, much better. So many monkeys everywhere and some nice temples and alleys. There is a beach called Gunung payung beach, small but beautiful to swim with some stairs, you'll pay 5.000 rupees to go into construction site around the area. When I went there, I was all by myself and there was no one there, so I didn't feel comfortable to stay. Just looked around, took pictures and carried on.

So I really want to include some more time in Bali in the future. And it's US $ 150,00 flight from Bangkok there, so perfect escape for when my visa is up in Thailand. I just hope their internet improves a bit so people like me, that still need to work on a regular basis, can have the same peace of mind to explore everything while we work.

Hope you have as much fun as I did and leave with the same feeling of "I have to come back" here, always.